Well hello, poor sad dusty neglected old blog. It's been a while. I never called, I never wrote. Let's jump back into the swing of things with a review.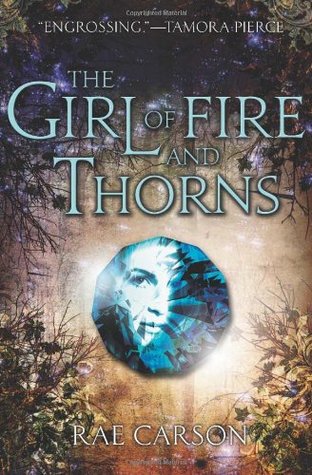 The Girl of Fire and Thorns--Rae Carson
September 2011 by Greenwillow
423 pages--Goodreads

Once a century, one person is chosen for greatness.
Elisa is the chosen one.

But she is also the younger of two princesses, the one who has never done anything remarkable. She can't see how she ever will.

Now, on her sixteenth birthday, she has become the secret wife of a handsome and worldly king—a king whose country is in turmoil. A king who needs the chosen one, not a failure of a princess.

And he's not the only one who seeks her. Savage enemies seething with dark magic are hunting her. A daring, determined revolutionary thinks she could be his people's savior. And he looks at her in a way that no man has ever looked at her before. Soon it is not just her life, but her very heart that is at stake.

Elisa could be everything to those who need her most. If the prophecy is fulfilled. If she finds the power deep within herself. If she doesn't die young.

Most of the chosen do.
---
This book has been floating around in my periphery for a while, but it looked like just another generic fantasy adventure, so for the longest time I didn't bother picking it up. Boy, was that a mistake. I've been missing out on a fascinating world, endearing characters, and a plot that is at times an intensely satisfying slow-burn and at others a compelling page-turner. From the very beginning of the novel, even when not much was happening, I couldn't put the book down.
As interesting as the plot is, where Carson truly shines is in getting you to care about the characters. From surly, little Prince Rosario to the genuine, sweet Humberto and even the aloof and weak King Alejandro. You can't help but want to know more about them, and spend more time watching them live out their stories.
I also really enjoyed the development of the mystery surrounding the Godstone, its powers and mythology, and Elisa's place as God's chosen one. The way Carson wove in the previous stone-bearers, especially the ones who had failed, was really interesting.
The book certainly isn't perfect. Carson saves most of the world building for books two and three, leaving the setting a bit underdeveloped in this first installment. And the spinning Godstone bellybutton amulet at the end was more than a little bit hokey. But at that point, I just didn't care. I have fallen for this series hook line and sinker. I've devoured book two and am well into book three.